Key to the Rotrex supercharger's unique compactness, efficiency, low noise and reliability is its state of the art traction drive technology.
Great speeds and low noise are just some of the advantages of traction drives over traditional gear transmissions. Traction drives transmit power through friction forces between its rolling elements.
The Rotrex patented traction drive uses an elastic annulus with a small pre-span to secure contact between the roller planets and the sun shaft with a reasonable force. The patented "ramp effect" increases efficiency and reliability in the transmission by regulating the torque transfer capability on demand through self-adjusting planet geometry.
To enhance performance, the Rotrex traction drive uses a special traction fluid. These fluids are a new family of synthetic hydrocarbon oils and greases offering a series of unique performance advantages. Developed specially for its use in Rotrex superchargers, the traction fluid momentarily increases viscosity under high surface pressure, enhancing the traction drive performance by securing the optimum friction between rolling elements while cooling and protecting the system.
This traction drive combined with the latest technology in centrifugal compression, characterized by high adiabatic efficiency and low noise, gives Rotrex superchargers an exceptional competitive edge over any other forced induction solution.
OEM Features
Rotrex superchargers are designed to reflect the 10 year lifetime requirement of an automotive component. A standard range of superchargers is available to match a broad range of applications.
The Rotrex supercharger can be customized for client applications optimizing integration, performance and cost.
Key design features for OEM market applications are:
Reliability – rolling elements with patented ramp effect preventing excessive stress.
Low NVH – no gears. Planet rollers give silent operation and less vibration.
Reduced emissions – no heat inertia impact on exhaust gas reducing catalyst light up time. Application with downsized engines reduces fuel consumption and CO2.
Cost – standardized components and a simplified assembly process make it turbocharger competitive.
Manufacturing – high volume compatible processes.
Packaging – the compact traction drive based supercharger is independent from the engine exhaust simplifying installation and packaging.
Design
Every Rotrex product, from concept to market, goes through an efficient and strict development process following the highest industrial quality standards. The entire process is led by our highly capable staff in collaboration with clients, suppliers and partners to ensure the highest customer satisfaction. Before final release to the market, every product passes through demanding approval tests, fully monitored and controlled.
The key advantages of the patented traction drive design are:
Torque-on-demand
Tested to speeds up to 330,000 rpm
Efficiency up to 98 percent
Compactness
Reliability
Low NVH
Cost efficient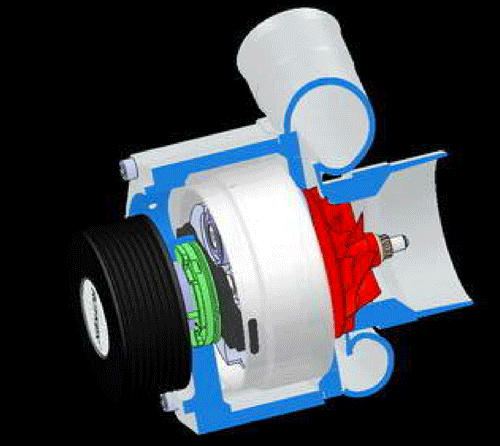 Oil Circuit
The Rotrex supercharger has a dedicated traction oil circuit which ensures both lubrication, cooling and actual torque transfer.
Oil is being circulated by the internal oil pump through the traction drive and the external oil circuit. Applied in the generic case, the standard oil set consists of an oil canister, cooler, filter, hoses and fittings.
Customized components and accessories are available for distributors and OEM customers on special order. In any case, it is mandatory to use Rotrex approved accessories only.